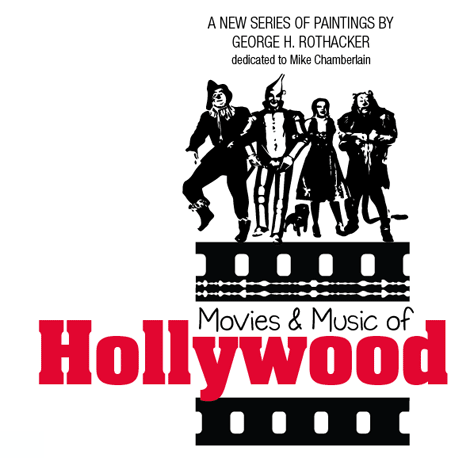 In 1988, Robert Redford, President of the Sundance Institute wrote about how society continually reappraises its cultural and artistic achievement.
When what we know of as "the movies" first came on the scene, "moving pictures were viewed as a novelty and a curiosity, but not as "art." Over time "film" became a source of inspiration as well as entertainment, and became the "art form" of the 20th century.
About the dedication: This series is dedicated to a friend and former neighbor Mike Chamberlain who turned 70 this year. May it be a good year, Mike, and many more!
Many of our film composers were child prodigies in Europe and like Erich Wolfgang Korngold, immigrated to the United States to escape persecution during the Nazi regime. Young musicians found their voice in the new industry, and adapted their scores to fit the storyline of the movie.

My mission in the series of paintings was to salute the great composers of Hollywood as well as the movies to which they applied their craft. The panels are all 48" tall by 24" wide. Some of the films are well known, and some not so popular; some feature the composer of the score, while others feature the songwriter and or lyricist; and one or two feature a film that used great classical or popular music as its base.

In a later day, Tchaikovsky would have written for "the movies." During the era of Stalin, Dimitri Shostakovich found it safer to write for Russian films than express his own musical opinions. And such is the fine line between fine art and illustrative art. The quality of any art is not dictated by the reason for its conception, but by the innate ability of the artist to stimulate the emotions and consciousness of an audience, as well as to entertain and educate.

Hopefully, The Movies and Music of Hollywood will serve as a visual reminder, as well as a tribute, to the artists who enriched and enlivened our movie-going experience.
– George Rothacker, 2014